Tooth Replacement
High-tech treatment options for missing teeth
At Maitre and Crabtree Dental Group, we offer various conventional ways to replace one tooth or missing teeth, such as dental bridges, partials dentures and full dentures. We also offer dental implant solutions. Many dentists agree that dental implants are the gold standard in tooth replacement.
What is a dental implant?
An implant is a biocompatible, man-made substitute for a missing tooth. Implants can increase the quality of your life. They can give you the ability to chew and smile confidently with lifelike false teeth that look completely natural.
Implants can be used to replace a single tooth or many teeth or even fitted to help secure dental bridges and dentures in place. There are many possible combinations, making implants one of the most flexible ways to replace missing teeth in dentistry today.
Single-tooth replacement

If you are missing just one, isolated tooth then consider getting a lifelike single-tooth implant to fill the gap in your smile. You can also replace a missing tooth with a dental bridge. This is a more affordable option than single implants for people with a missing tooth.
Replacing multiple teeth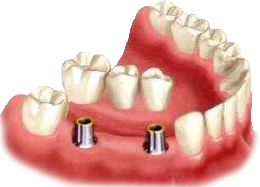 Single implants can be used to replace several missing teeth. These teeth can also be replaced with either a removable partial denture or an implant-supported fixed bridge. An implant-supported fixed bridge uses implants to stabilize the bridge. A partial denture fills the space where a tooth has been removed or has fallen out. This is a more economical alternative than single-tooth implants for people with multiple missing teeth in a row.
Replacing all your teeth
There are various ways to go about replacing all of your teeth. During your consultation, our dentist will advise you on which treatment is best for your particular situation.
Implant-Supported Dentures
Full-Mouth Restoration
Severe dental problems may require complete oral restoration. This is a comprehensive rehabilitation process involving not only your teeth but also the treatment of your entire mouth. It not only creates a healthy and beautiful smile, but it can also enhance your overall facial appearance.
Denture Stabilization
This might be your best option if you have dentures but they are loose or uncomfortable. Denture stabilization stops denture slippage while improving your ability to speak and chew. Your current dentures can be stabilized by placing a couple of implants with snaps on the lower and upper arches of your mouth.